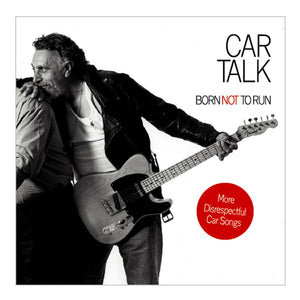 Car Talk: Born Not To Run
Regular price $16.95 Sale
Why do so many songs make car ownership and driving seem like fun, when in fact it's a complete pain in the butt? The eagerly awaited sequel to Car Tunes Volume 1 features more songs that tell the truth about cars.  Born Not to Run is a collection of car tunes as irreverent as they are melodic.
With titles like, "If She Wasn't On Blocks," "Who Taught These Idiots To Drive," and "Built to Crash," we guarantee that you'll be simultaneously tapping your toes, laughing out loud and shaking your head. For these reasons, we ask that you not listen to Born Not to Run and drive at the same time. It's more fun from Click and Clack, the Tappet Brothers.
Tom and Ray Magliozzi, better known as Click and Clack, the Tappet Brothers, host NPR's Car Talk, a syndicated call-in program heard on more than 500 stations world-wide. Their hilarious, uninhibited, thoroughly unrehearsed show is enjoyed by millions of listeners each week. Winners of the Peabody Award in broadcasting, the Magliozzi brothers have been handing out advice since 1977 on everything from car repair to marriage repair.
Tracks
1. We Talk About Cars
2. Me And My Automobile
3. If She Wasn't On Blocks
4. Light Blue Saturn
5. 1000 Dollar Car
6. Who Taught These Idiots To Drive?
7. S.U.V.
8. Auto Mechanically Declined
9. Ranchero
10. Unfit To Drive
11. Oh, Great Car
12. You Dance Like You Drive
13. Please Old Car
14. Muscle Car Blues (Tell Me Another)
15. Everybody Knows My Car
16. Built To Crash
17. Faded Red Car
18. Click 'n' Clack
19. (Take A Beetle) ToThe Badlands
Details
ISBN-13: 9781565118812
Format: CD
Publisher: HighBridge Company
Publication Date: 4/26/2004