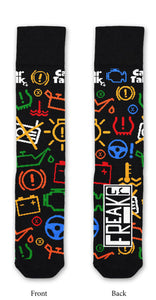 Car Talk Socks
Regular price $18.00 Sale
What stinks more than our show? Feet!
That's why we love these brand new Car Talk socks.  
Featuring an array of colorful warning lights, some real, some made up— these comfy, premium quality
socks come with our full 60,000 step warranty.  Actually, they're made by the same sock company that NPR uses for its 
good
 shows, so these will be staring at you from your sock drawer for a long time.
These are perfect for people who love Car Talk, but are somewhat embarrassed to admit it.  In respectable company or at work, they're well concealed beneath your pant legs.  But when you meet a fellow Car Talk nut, just cross your legs and create a bonding moment.  
Like Car Talk, these socks are both useful and fun.
Buy two or more pairs and get 10% off at checkout!
Details

Premium Quality Cotton Blend: 76% Cotton, 22% Nylon, 2% Spandex
Made in the USA: Made in North Carolina
One Size Fits Most: Men 4-13, Women 6-14