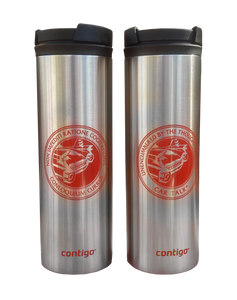 New! Car Talk "Unencumbered" Travel Mug
Regular price $29.00 Sale
Non Impediti Ratione Cogitationis!
Car Talk's unofficial motto is now on a travel mug. ("Unencumbered by the Thought Process" for those of us who don't read Latin!)
Designed to look like an official, academic seal, our "Unencumbered" travel mug offers a whiff of erudition, while maintaining the low-brow stupidity that you've come to count on from Car Talk.
Unlike the staff of our lousy show, this mug is both handsome and stainless.

English on one side, Latin on the other.  The Latin translation has been confirmed by an actual Harvard professor...although the English has not.
20 oz
Contigo Twistseal